Hello!
Do you know that it is very important to put sunscreen everyday to protect yourself from harmful UV?
Personally I do use sunscreen but some brands can be really oily for me as I have oily screen.
So I kind of stopped using it till recently I opt for an alternative, which is to use a makeup base with SPF in it.
However the SPF is not high enough to protect my skin from it.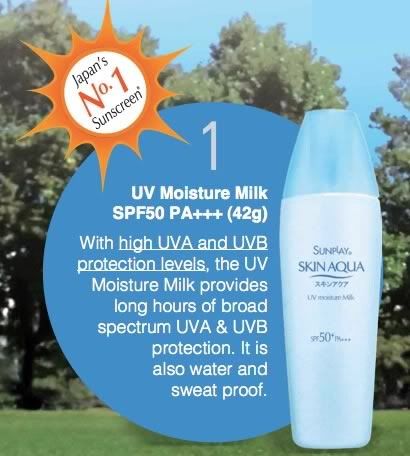 I was sent the Sunplay Skin Aqua UV Moisture Milk sunscreen with SPF50 PA+++ to do a review on it.
At first I was quite attracted to the products as it claims to be non-greasy with a matte powdery finish, but come to think of it, most of the time I bought it to try out but turns out that they are just a gimmick.
Anyway I decided to give it a try since there's no harm trying.

It has quite a nice packaging with a tip on top where you don't have to squeeze very hard the bottle to get the liquid out. Usually I would just pour a few drops throughout my face directly so it isn't that messy.
The sunscreen doesn't really have a smell and is very thin, light and watery which helps a lot when applying the screen to my face.
It takes awhile for the sunscreen to get fully absorbed to the skin which initially it might feel a little greasy.
I would not say that it gives a matte powdery finish, but it does leave a smooth finish with a little sheer glow that is not oily and it's not sticky too! (:
A drawback to the product is the small packaging. As the sunscreen is in liquid form, the product might only last for a month (or two?) for daily use.
FYI: The SUNPLAY Skin Aqua range is available at Watsons, Guardian, Sasa, Unity and other major department stores.
Bye~ ^^