Hello!
I was searching for my thumb drive to store some files and found some of my past photoshop works done during my secondary school days.
What makes me want to learn photoshop is because I was playing Maplestory, back in about 2006 and I find that making siggys (signature) for my forum account is kind of a "COOL" thingy and I wanted to do it myself because I wanted something unique.
It was quite interesting because the Maplestory forums do teaches people how to do signatures with step by step tutorial and I managed to learn quite a few features of the photoshop.
Hahahahahahahaha
Ok, kind of a childish topic, but HEY! I've learned how to use photoshop okay!
Not a bad idea.
Alright, here are some works that I did.
I think it should be by sequence based on the dates that the picture was created.
Done in 2006
I think this is my first work. Please ignore my IGN (Justsomeverysmallgirlthatcreatedthatidkwhythatnamenick.com)
LOL
I only did the top part and the mirror and rain was done using some online website that does it for you when you upload the photo. Lol
Done in 2007

This was done by following a tutorial. Not bad huh. Haha

Short animation done.
Kinda crappy but I think it was quite well done for the first time. Took quite a few hours to do this -_-
(I used to think it that way Hahahahahahahaha)
Done in 2009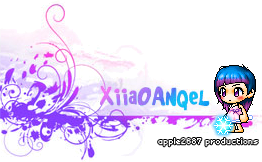 Oh by the way,
I did not do up the characters myself, I used a simulator to do it. Effects are brushes downloaded from Deviantart, but the colors, effect and stuff I did it myself :P
So from then on I kind of stopped doing signatures because I stopped playing it and I went to learn how to use photoshop to edit pictures and stuff.
For example, editing eye color.
To changing hair color, liquify, bloat tool.
Add on blush, create anime eye effect ( this is not easy =\ )
Remove flaws, change color, brightness, etc.
Yup, but as you can see this photo is done on purpose.
With extreme sharp jaw, sharp nose, enlarged eyes and stuff.
If you're wondering why you couldn't photoshop it properly and stuff,
I think you must practice it, just like normal art because when I look back at my photos, it kinda suck.
Although I did not edit much.
Here's an example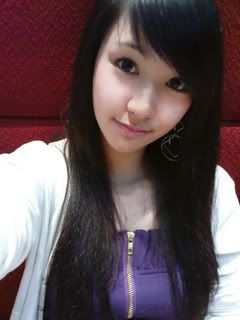 V-shaped face.
This is what you call 瓜子脸 in Chinese. LOL
Yup.
So if you're trying to learn how to use photoshop, you can search in youtube (E.g. Change eye color using photoshop, etc.) and they will show you step by step tutorial.
Good luck! :D
P/S: Please don't judge my photoshop skills because I'm not an ART student.
Just learn it for fun and for some easy editing of pictures!