Hello.
Some people asked me to do a makeup tutorial but I can't really get it done so I'll briefly let you know how I do my makeup and what makeup products I use currently.
I think it'll be a very long post LOL.
I might do a tutorial when I'm free though *crossed fingers* Haha
This might be boring for guys.. Haha
Step 1: Primers (Eye and Face)
Sephora Base Lissante Smoothing Primer
Apply it all over your face evenly!
Urban Decay Eyeshadow Primer
This is a MUST try product! I'm using the 2nd tube now.
It makes your eye shadow lasting and prevent creasing :D
Apply it to your eyelid using your ring finger.
*Remember to blend well if not it'll be cakey
Step 2: Foundation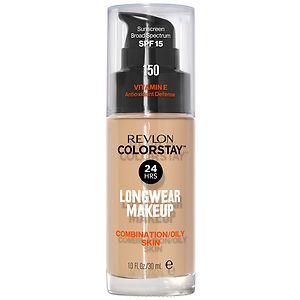 Revlon ColorStay Foundation for Oily/Combination Skin in 140 Buff
This controls oil really well, suitable for people with oily skin.
Apply the foundation using a Flat Top brush by Coastal Scents.
*Put the foundation on your hands and use the brush to dip it instead of putting it directly*
I usually only apply it on my T-zone and chin because the coverage is very thick.
Step 3: Concealer
M.A.C Studio Finish Concealer in NC20
Application: Cover any redness on your skin.
I apply this on my scars and breakouts with a concealer brush and blend it.
Hanskin Blemish Cover
Application: I use this to apply it to my dark circles.
The reason why I use different concealers is because there's different tones of concealer to cover different things.
Like Green covers redness on your skin and so on..
You can google it to find out more. :X
Step 4: Powder
You need Power/Loose Powder to set your makeup!
People with dry skin can skip this step.
COVERMARK Moisture Veil LX
Application: Apply it evenly on your face.
For me I use a powder brush and apply a thin layer since the liquid foundation has quite a bit of coverage.
*Ok I just realized that this post might be quite useless because it doesn't really show one how to do it.
But whatever since I've already done it Lol
I'll do a separate post for my eyes as I think it'll be pretty long if I add it here.
Alright,
See ya!