Hello.

Have you guys wonder who is reading your blog?
Maybe your teachers are reaching your blog, or a secret admirer of yours are reading your blog?
Haha,
I seriously have nothing to post today so I went to Nuffnang to check the number of visitors I have blablabla and so on..
Actually, you won't know exactly who is reading your blog.
But who would want to know each and every one of you is reading their blog?
Haha, whatever.
Okay, so here's mine.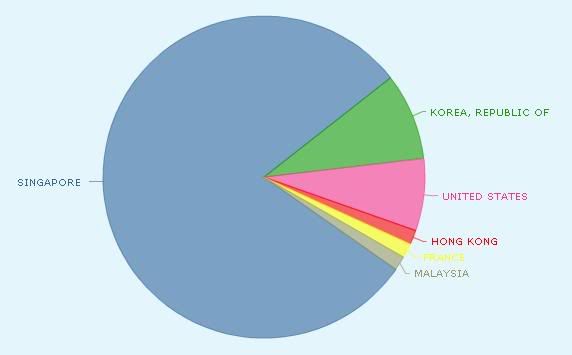 This is for today.
They will show up to a total of 10 countries.
Most of my blog readers are from Singapore.
2nd from Korea.
3rd United States and so on..
Actually there's a list of how many people from a certain country is reading my blog but I did not want to post it up because it's not that important anyway.
Next,
Here's what the people google-d about and came to my blog.
Most of them are repeated one.
Nothing much.
Ok so here's the list of link people click to my link from.
Those that type my blog address on the address bar would not be shown here.
Last time it would. o.o
This is last month's btw.
Of course this is not the total amount of readers that reads your blog.
There's another list but I'm not posting it up.
So ya, that's it.
If you want to know where this is from, this is from Nuffnang.com.sg
Please help me click the advertisements (if there is) !
Thanks!

Ok Bye!